Writing a blog post should be a simple matter, but often it's not. You've got to write your content, add the formatting you want, then insert pictures individually into your post. Before you know it, you've spent more time editing and tweaking than you did writing your post.
Artsy Editor makes this tedious process a thing of the past. Its distraction free editor makes it enjoyable to write long articles in your browser, while the quick editing tools make it much quicker to add the formatting you want. Drag and drop images from your computer, and you've got an article ready to publish in no time.
Distraction-free Writing in WordPress
When you jump into Artsy Editor, the first thing you'll notice is the elegant clean writing view. There are few buttons to take your thoughts away from your writing, and even these fade away as you start typing. Your text is centered in your screen, making it easy to write no matter how wide your screen is. Take your browser full-screen, and you've got a great distraction free writing experience without ever leaving WordPress.
Best of all, you can tweak Artsy Editorís style to fit your tastes. Do you prefer to write in a Serif font like Georgia, or is Helvetica more your style? Would you rather write in a white-on-black environment, or would a light blue or grey background be more your style? In Artsy Editor, these options and more are only a click away. You can make your writing experience your own, just like everything else in your WordPress site.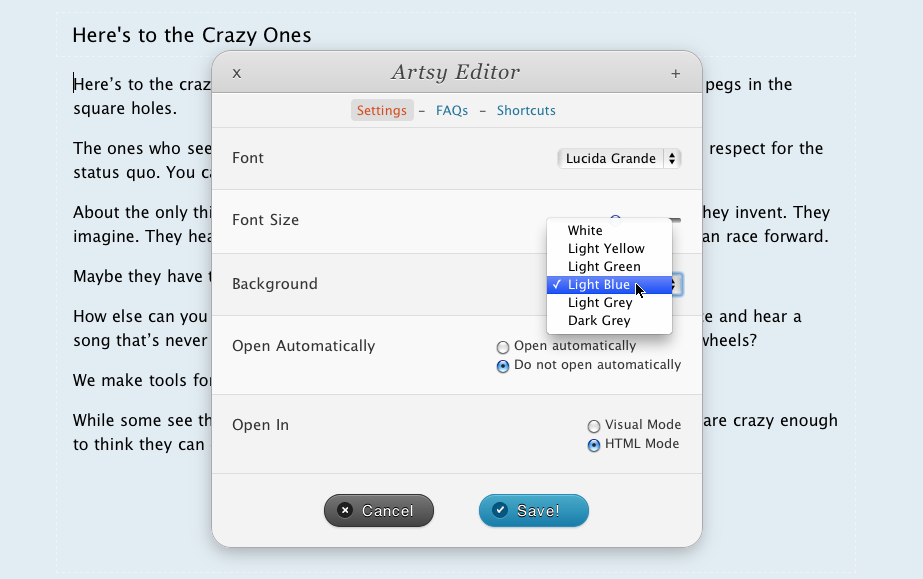 The Easiest Way to Edit in WordPress
Whether you like to format your text as youíre writing, or prefer to go back and make the changes when you're finished, Artsy Editor makes it quicker than ever to add the formatting you want. You can use all of your standard keyboard shortcuts to edit while you're typing, but once you're finished typing, it's often quicker to edit with your mouse. Just select the text you want to tweak, and a formatting palette will open right below your mouse. Now, you can make your text bold, centered, linked, or anything else you want right there without dragging your mouse to the top of your editing screen.
The editing pallet can be a serious time saver. Normally, it takes 3 clicks to add a link to text in WordPress. With Artsy Editor, just select the text, enter your link, and you're ready to go. There's also more than meets the eye. Want to add a different heading style to your text? Just click the H†button, and all of the standard heading options will expand below. Once you've selected one, you can quickly choose it in one click next time.
Add Images Using Drag-and-Drop
Adding images to your WordPress posts and pages can be a very time consuming task. Using the normal WordPress editor, it can take 5 or more clicks just to insert one picture. With Artsy Editor, that's a thing of the past. Instead, just drag and drop images from your computer right into your blog post, just like you would in any other standard program. Seconds later, you'll have your picture uploaded with just one click.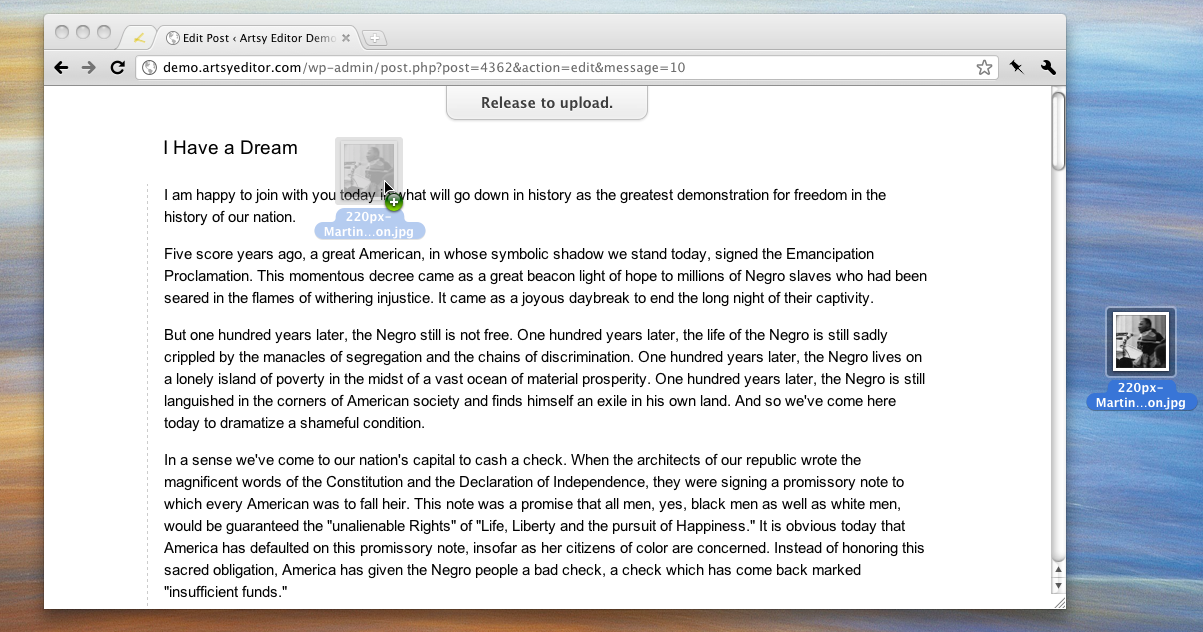 Often you'll need to tweak your picture after you've added it to your post. Artsy Editor makes this easy, too. You can add alternate text and captions, change your image†alignment, and more from a quick editor similar to the one you'll see when editing text. Then, you can drag the bottom corners of your picture to resize it, just like you would in your favorite image editor. It's so much more natural than the standard WordPress image editor.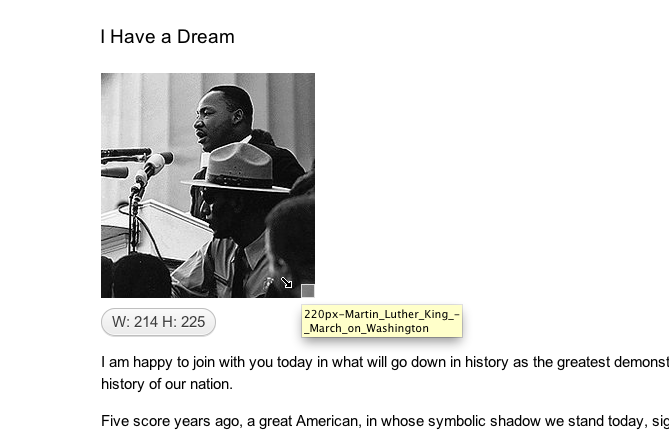 Finish Everything from the Same Screen
Using a different editor to write and tweak your posts usually makes it more difficult to get your content actually published. Even in the full-screen editor included with WordPress, you'll have to exit the editing mode to publish your post. That's now a thing of the past. In Artsy Editor, you can quickly publish your post, or preview it live on your site, right from the Publish button on the top right. In one click, you can go from concept to creation in less time than ever.
There's Something for Everyone
Whether you're a writer who loves to write without distractions, or an editor that hates dealing with the formatting toolbar, or a photographer who wants a simpler way to add photos to your posts, Artsy Editor has something for everyone. It takes the pain out of writing and editing in WordPress, and the clicks it saves can add up and make you much more productive over time.
Want to try it yourself? Give our free demo a try, and see if Artsy Editor is the WordPress editing environment you've been looking for!